SGT JOHN INGRAM (VA)
Montgomery Co Virginia
Militia and American Revolution
Dunsmore's War
1735-1813 VA
wife: Eliz. Chiles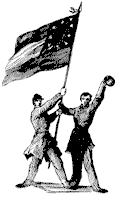 THOMAS WHITLOCK (VA)
Sergeant in Captain Joseph Spencer's Company
of the 7th VA Commanded by
Colonel Alexander McClenachan
~~~~~~~~~~~~~~~~~~~~~~~~~~~~~~~~~~~

JOHANN HEINRICH STOLTZ (PA)
Continental Line
Roll 130
wife Anna Barbara Dietz
ROBERT DUNN (VA)
Entered as a Cadet
Land Bounty in KY
wife, Eliz. Stephenson
RICHARD BENNETT (VA)
Richard Bennett born Middlesex Co VA
Lived in Granville Co NC
Virginia Militia and Rev War
US Rev War Rolls VA 99-100
"Virginia's Colonial Soliders"
~~~~~~~~~~~~~~~~~~~~~~~~~~~~~~
John CARR aka KARR (VA)
Name: John Karr Birth Date: 1740 Birthplace: Virginia,
Volume: 94 Page Number: 70
Biographical Info: priv. Reference: Historical reg. Of Virginians in the Rev., soldiers, saliors and marines, 1775-1783. Ed.
By John H. Gwathmey. Richmond, Va. 1938. (13, 872p.):433
SGT. THOMAS PARKS (VA)
Rev. War Sergt Thomas Parks, source: Revolutionary War Rolls, 1775-1783; [roll box 111] VA (National Archives Microfilm Publication M246, 138 rolls); War Department Collection of Revolutionary War Records, Record Group 93; National Archives, Washington. D.C.
JOHN SAMUEL STRUB (NC)
North Carolina State Line
Wife was Susannah Stolz
Moravian
sources: "North Carolina Genealogical Society Journal" Feb 1977, p 41."Surry County North Carolina Wills 1771-1827" by Jo White Linn pg 86